Tekakwitha, not looking very
much like the pox-scarred
late-seventeenth century
Mohawk girl that she
actually was.
Photo: Grévin Montréal.
I still haven't gotten around to visiting the Grévin Museum in Montreal. As readers of this blog will recall, I was announcing with barely contained excitement that some figures drawn from the history of New France would feature in the mix of wax figures exhibited there. Off the top of my head, Jacques Cartier, Samuel de Champlain Champlain, Paul Chomedey de Maisonneuve, François de Laval, Jeanne Mance, Catherine "Kateri" Tekakwitha, Marguerite Bourgeois, Marguerite d'Youville, Marie de l'Incarnation, Louis de Buade de Frontenac... A few pictures have been available on the Grévin's
Twitter
feed.

Unfortunately, the good folks at the Grévin clearly do not seem to have put as much effort in researching these historical figures as they have in replicating the likeness of contemporary celebrities. Sure, we lack portraits for most of them. Still... Catherine "Kateri" Tekakwitha appears in buckskins and braids, visibly inspired by a prayer card rather than by what we know, from visual and textual evidence, late eighteenth century Iroquois women wore. The
portrait
by Claude Chauchetière (the fact that it is likely a 19th century copy of the original notwithstanding) might have served as a more credible source of inspiration.
Frontenac is for his part modelled after the
statue
, made by Louis-Philippe Hébert in 1890, that adorns the façade of the Assemblée nationale. Those familiar in material culture will note that the sword is one of those cheap US Civil War replicas, and the costume is all wrong. The person or persons responsible for the costume, astonishingly, don't appear to have understood what they were seeing when they were looking at the statue's steel breastplate. Indeed, they depict it as the body of a historically dubious
fabric
coat.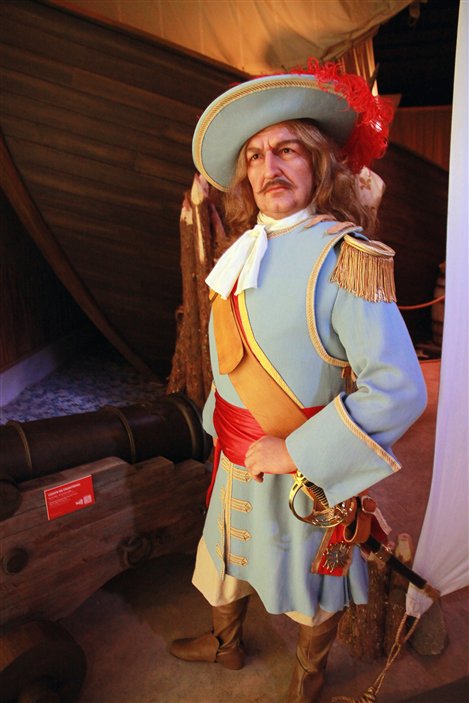 The Wax Governor (Photo: Radio-Canada).
What a wasted opportunity. Heads up, Grévin: you need a historian or two on staff! I can suggest several who would gladly work for food.
P.-F.-X.